"What are you doing for Mother's Day?" my dear friend asked me during a long phone call last month.
"Sticking my head in the oven," I replied. "You?" She laughed out loud, the real kind of laughing, and told me she loves me.
Our convo was wide ranging, as is usual when we do a catch-up call since she and her husband moved out of town during the pandemic.
Near the end of the call, I shared with her that her youngest daughter had reached out to me by messenger inquiring about some old scandal involving no one relevant to any of our lives. My girlfriend thanked me for even responding, this child of hers having years of mental health struggles.
"Are you kidding me?" I exclaimed. "Life is so nuts, sometimes I feel like I'm the mayor of crazy town! I was just hearing from another one of my constituencies!" We both chuckled on that one, but the truth is serious and soul-suckingly (made up word) heart wrenching. Humor helps me put things in perspective, and gives me a little feel-good hormone boost, as does talking to a dear friend.
Anyone who has followed this blog knows that one of my loved ones has struggled with mental health issues for many years. We are not alone. In 2020, an estimated 14.2 million Americans age 18 and older, 5.6 percent of all adults, had a serious mental illness. The pandemic has caused an increase in suffering – isolation increasing anxiety and depression symptoms, and for those suffering with PTSD, a break in their ability to receive treatment and be in group therapy sessions.
Even before the pandemic, an alarming number of young people struggled with feelings of helplessness, depression, and thoughts of suicide, Surgeon General Vivek Murthy noted in a December Advisory, Youth Mental Health Crisis Further Exposed by COVID-19 Pandemic. The pandemic "further altered their experiences at home, school, and in the community, and the effect on their mental health has been devastating," he said.
Mental health disorders have overtaken pregnancy, smoking, drunken driving, and binge drinking as the primary health concern among American teens. Depression, self-harm and suicide are all on the rise, and hundreds of suicidal teens sleep in emergency rooms every night, the New York Times reports. Last fall, a coalition of the nation's leading pediatric health experts declared a national emergency in child and adolescent mental health.
June is Post-Traumatic Stress Disorder Awareness Month, a time to spread the word about this condition. PTSD affects an estimated 3.6% of US adults each year. Females are almost three times as likely to have PTSD — 5.2% of women compared to 1.8% of men. Learn more at the National Center for PTSD.
While PTSD typically arises after a single traumatic event, there's also a condition called Complex PTSD related to a series of traumatic events or one prolonged event. It involves multiple symptoms and can be treated with multiple therapies, including mindfulness, meditation, dialectical behavior therapy (DBT), neurofeedback, yoga and other forms of movement therapy, psychotherapy, cognitive behavioral therapy (CBT) and psychiatric prescription drugs.
There are other promising non-invasive, non-drug therapies for PTSD, including electronic stimulation of the vagus nerve, a large nerve connected to the brain involved with controlling the heart, lungs, and digestive tract. Research indicates that vagal nerve stimulation calms fight-or-flight responses and lowers inflammation. One of the techniques used to do this is nurturing touch, which I call soothing touch.
Soothing touch, the "S" in my SNAP method of mindful self-compassion, helps calm the fight-or-flight responses associated with PTSD, anxiety and other disorders. When you place your hands where you find it soothing – such as your chest, belly, hugging your upper arms, or cradling your face ¬— it stimulates release of oxytocin and endorphins to help calm your nervous system.
I am grateful for the practice of mindfulness, which helps people suffering from PTSD be more aware and gentle in response to their trauma reactions, and provides a refuge of respite for their caregivers.
I have tremendous compassion for everyone suffering from PTSD and all other forms of mental illness, and I am grateful for the help that is available to families such as ours. I am also grateful for good friends and being able to share struggles together, with love and humor.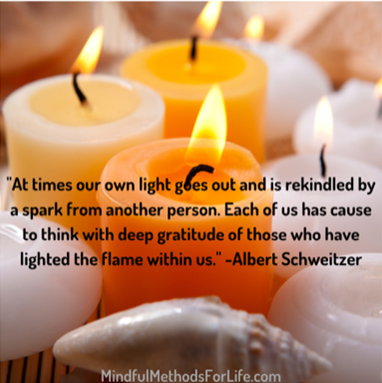 Humor, connecting with a friend, meditation, and being outside in the air are self-care choices that I added to the choice I made to have a massage on a recent morning. The massage therapist lovingly informed me that I needed a break. I had shared with him that I felt my light flickering. He said I can't have my light go out. I told him about the meme I made with the Albert Schweitzer quote: "At times our own light goes out and is rekindled by a spark from another person. Each of us has cause to think with deep gratitude of those who have lighted the flame within us." I said, "sometimes we are the light, sometimes we need the light, and today I need and appreciate your light."
If you or one of your loved ones is coping with PTSD, anxiety, depression, or any other form of mental illness, remember you are not alone. Remember to be compassionate with yourself, and care for yourself, to keep your flame burning.
Please share your thoughts. . .