Hello March! March is National Reading Month and International Women's Day is March 8, a day celebrating the social, economic, cultural, and political achievements of women worldwide! This year's theme is #EmbraceEquity, and we are being challenged to imagine a world free of bias, stereotypes, and discrimination — where difference is valued and celebrated. What a cool pairing of awesomeness!
I love reading, and am excited to be getting ready for the Self Care and Sisterhood Adventure workshop I'm teaching with fellow author and meditation instructor Puja Shah on April 1, at the beautiful Riford Public Library in La Jolla, California. Sometimes what I'm doing fits so nicely into these seemingly random national "days" like it was meant for me! Serendipity is the best!
Like my recent book launch and mindfulness workshop, this event will include a fun and interactive workshop in which I will teach the SNAP! method for managing difficult emotions. We will also share gentle mindfulness exercises, books, tea, and delectable treats. Everyone who attends will get their own gratitude journal and paperback copies of my new book, "SNAP!: From Chaos to Calm," AND a paperback copy of "For My Sister," Puja's captivating debut novel. To add an extra dose of feel-good, we will donate a portion of event proceeds to the Center for Mindful Self-Compassion, committed to building an equitable, inclusive, and caring global community while supporting the practice of self-compassion.
The Self Care and Sisterhood Adventure was curated by Susan McBeth who owns Adventures by the Book. She reached out and asked whether I'd be interested in presenting with another author. I jumped at the opportunity to collaborate with a like-minded woman! She's younger than I, with a different background than mine, and I love how much we have in common – everything from meditation and compassion, to helping to alleviate suffering for women and girls.
Sisterhood is a social, ethical, and emotional pact between women, whether we share birth parents or not. It happens when we come together to support and uphold each other. Having sisters, or close female friends, helps us manage stress together as we share, connect, laugh or cry.
When we share with other women, our brains create oxytocin which alleviates anxiety, helps us think more clearly and bond. This is so important when so many, young and old, have been battling loneliness wrought by three years of pandemic.
I am the youngest of three girls, and I am lucky that I have two sisters. We are all in our 60s now and we are all close. I'm grateful every day for that connection. We live thousands of miles from each other in New York, Miami, and San Diego, but we try to get together, all three of us, at least yearly. I also have identical twin daughters and a son, and I am so glad the girls have each other.
Some of my close friends don't have sisters and consider me a sister. My best friend Lisa and I also consider ourselves sisters — we are that support for each other. There is something about women needing women. We are communal, loving, and sensitive.
For our April 1 event, I will teach SNAP like I did at my book launch so people can teach it to their friends and family. Since then, I have had people contact me and tell me they are using it — that they taught it to their child, or they taught it to their mother, or they taught it to their husband — and it is working. I even had one participant share with me that she taught it to her therapist who thinks it's great! One morning one of my daughters told me she used SNAP in a dream!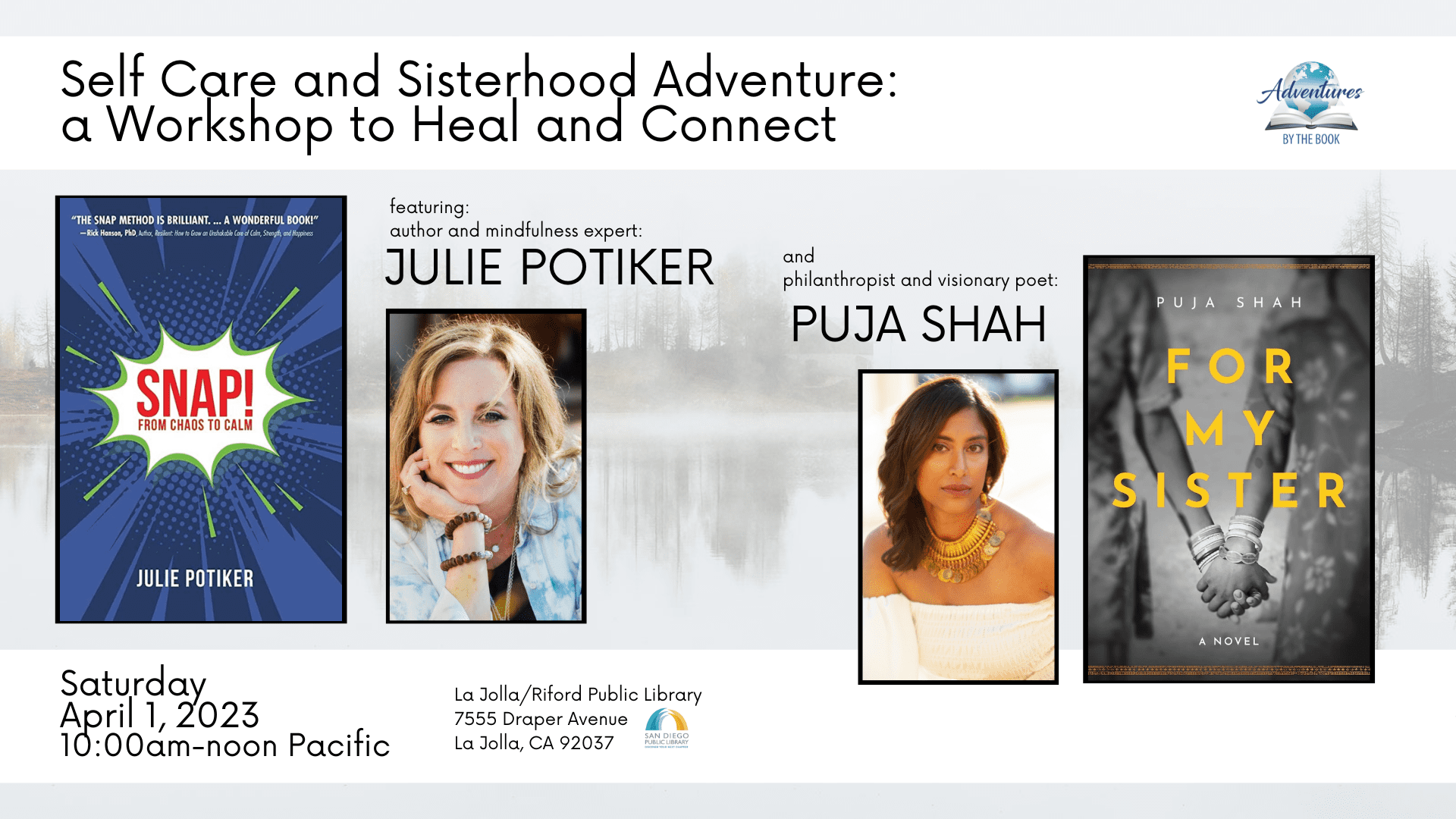 Reading, mindfulness and sisterhood — they all go together! I hope you all enjoy reading "SNAP! From Chaos to Calm," and "For My Sister this month," and that it gives you a nourishing dose of love. If you are in San Diego, please join us Saturday morning April 1, 2023. We would appreciate you registering here, so we know how much of everything to have on hand! Thank you in advance! We look forward to sharing a few beautiful hours with you!
Please share your thoughts. . .