Mindful Self-Compassion Online Course
with Julie Potiker and Natalie Sobel
In 2014, the flyer I created before teaching my first Mindful Self-Compassion (MSC) course was titled "Life is a WILD RIDE." The working title for my book was Wild Ride, which eventually became Life Falls Apart But You Don't Have To: mindful methods for staying calm in the midst of chaos.
Now, seven years later, I'm going back to basics, co-teaching the 2021 version of the 8-week MSC course online. This past year has been wilder than ever, as together we navigated a global planetary pandemic. The Center for Mindful Self-Compassion updates the teacher guide yearly, and the 2021 version is fabulous, I'm proud to teach it.
My co-teacher, Natalie Sobel, is clinical social worker, with a decade of experience facilitating mindfulness skills-based groups, and co-teaching MSC for the past 3 years.
We make a great team.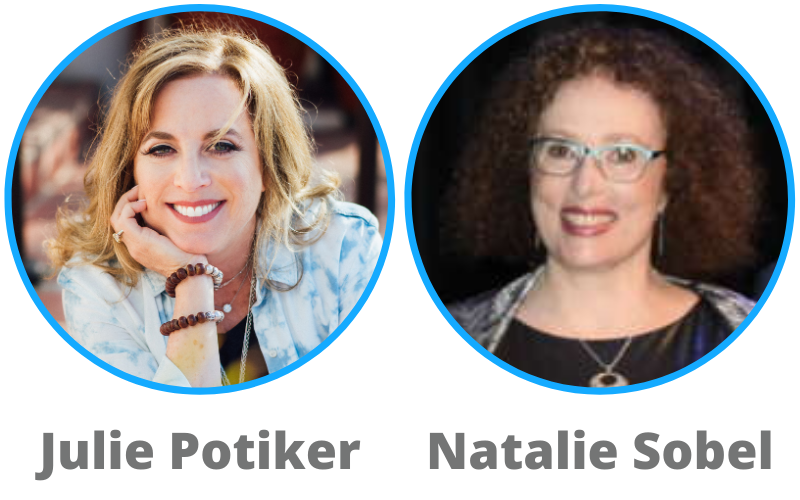 Would you like to handle difficult moments in your life with less stress, pain and anxiety?
We can teach you how!
MSC is a researched based program shown to decrease anxiety, depression and stress; and increase emotional wellbeing, relationship satisfaction and healthy habits like exercise and diet.
During this adventure in self-discovery and transformation, you will learn over 25 simple ways to enable you to call on your own inner resources to soothe yourself in times of stress or pain.
Learn evidence-based techniques that will help you to:
Handle difficult emotions with greater ease.

Soothe yourself in times of difficulty.

Practice mindfulness and compassion in daily life.

Rewire your brain for more happiness and resilience.

Enjoy your chosen form of meditation.

Understand the benefits of a gratitude practice.
An extra benefit of taking this course is the invitation to a global community where you can continue practicing in daily sessions through the Circles of Practice (which meet all throughout the day in various time zones), the Community for Deepening Practice (an 8-month course for slow, deep engagement with the curriculum and practice — only for MSC grads), and Compassion-Based Residential Retreats.
There are thousands of like-minded souls from all over the globe waiting to welcome you home.
Taking this short 8-week course can change your life!
Classes will be online on Zoom at 3:00 pm to 5:30 pm PDT (6:00 pm to 8:30 pm EDT) every Wednesday afternoon May 12 – June 30, 2021. There is also a 3-hour mini retreat online on Sunday, June 13th from 10:00 am to 1:00 pm PDT (1:00 pm – 4:00 pm EDT).
We are limiting the class size to 16 participants in order to create a beautiful and brave space to connect and learn together.
Early Bird Rate is $302.00 until April 26th | Cost is $342.00 after April 26th
This class is now sold out.
If you have questions about the Mindful Self-Compassion online course, please email me at [email protected]