This place is not easy to get to – you must pass through the Malibu Rapids and can only do so at slack tide, best at high slack tide, which needs to be calculated each day. The current in the Malibu Rapids rushes in or out at 9 knots, so even going with the current, boats need to be able to go more than 12 knots so that you have 3 knots of way to be able to steer. At slack tide, it's easy. No current to speak of has boats lined up on the water, announcing themselves on the radio as proper protocol of who is passing through in each direction.
On our way in, we had to wait 4 hours for high slack tide, floating around in the Queens Reach, another body of water that's narrow but a lot wider than Princess Louisa Inlet. I used the time to cook, wash clothes, and hang them to dry, and Lowell did little repair projects. At around 6:30 p.m. it was slack tide and we made our way through the rapids and into Princess Louisa Inlet.
Once up the inlet, the job of anchoring (or getting a spot at the dock if you are under 55 feet and there is one available), takes time and patience. Dropping an anchor, backing up, and tying a line to a tree in the woods is getting easier now that we have had a few days of practice.
After all the work was done, I sat in the boat on the water in a basin surrounded by sheer cliffs reaching hundreds of feet in the air, covered by trees in every color of green. Various breaks in the trees revealed where waterfalls had been, washing down the rock face making a path through the trees. The trees reflect on the water below, so you have a watercolor version of upside down candle flames in the same colors as above, but with the edges softened. Any boats in the anchorage are also seen double – the above the water version, and the complete reflection below. Towels and shirts hanging on the rails are faithfully reflected in reds and blue on the water.
Until I walked on the shore, I thought all the trees were different shades of pine tree. But once on the land I found an astounding variety of life in this temperate rain forest. The earth was thick and soft, spongy, teeming with life. The trees near the huge famous waterfall were draped with moss that resembled fur. Old and new growth competed for space, air, and light. This is paradise.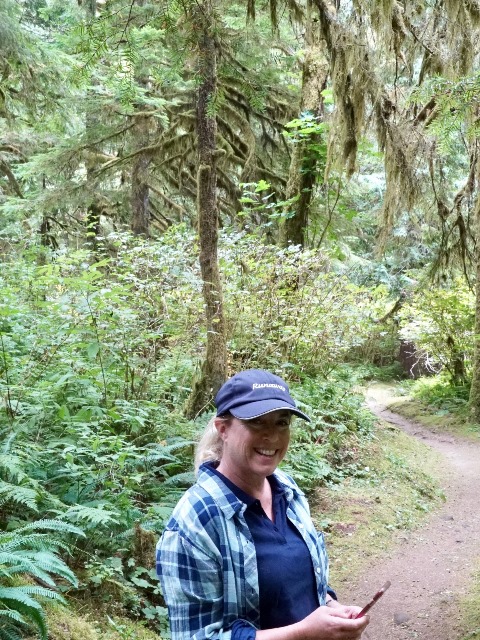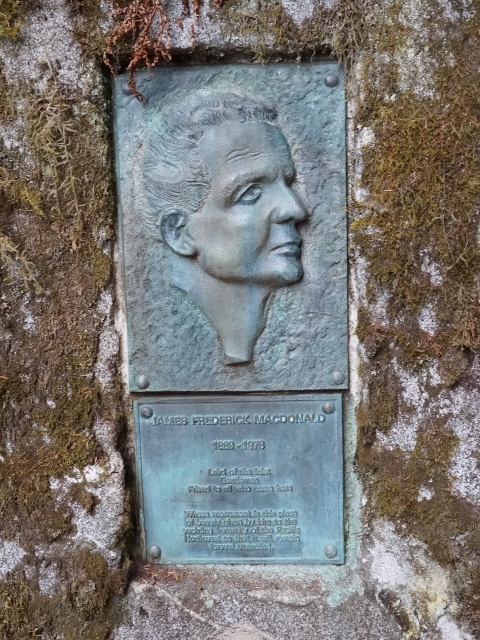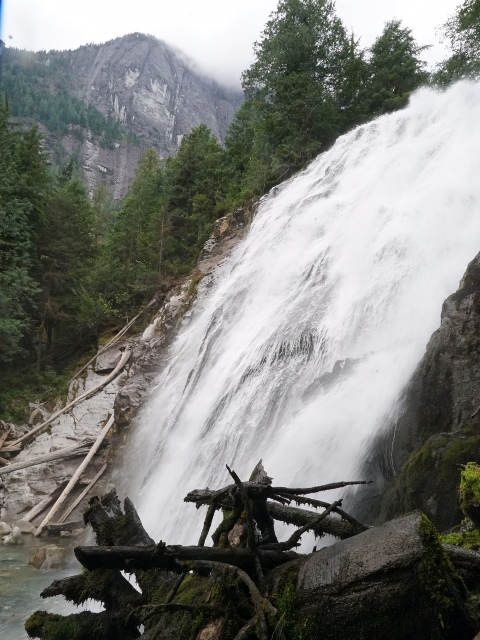 James Frederick Macdonald ('Mac'), 1889-1978, is memorialized as the "Laird of the Inlet, Gentleman, Friend to all who came here" who gave this land that he purchased in 1927, to the Princess Louisa Society in 1953 so that it would be preserved for generations. It's a beautiful story.
(Read more at http://www.princesslouisa.bc.ca/princess-louisa-society-history.php)
We woke the next day to cloud cover and cooler temperatures, a welcome relief from the heat of the last week. That afternoon the sky opened and it poured rain for hours. It was a great afternoon of reading and staying cozy with the flaps zipped down on the enclosure over the cockpit. The clouds floated down into the basin and the anchorage took on a moody blue hue. It was magnificent.
When the rain finished rinsing all the boats, we dried off the dinghy and went to explore the anchorage, hoping to spy more waterfalls. Guidebooks tell of multiple waterfalls, but because this season has been so hot and dry, they have mostly dried up. We were rewarded with three "new" fabulous waterfalls. I felt like the Universe was gifting us, allowing us to see this place in all its' splendor.
Chatterbox Falls makes you want to speak in hushed tones. It's indescribably stunning. It feels like you are in a cathedral. I don't think I've ever dropped into mindfulness as many times a day as I did today. There is no cell phone coverage but I had my phone with me to take photos and video. I had this flash of insight that I could use 30-second clips of video of the different waterfalls for a mindfulness meditation or mindful moment type of content.
It was cool taking 30-second videos of the sound and look of paradise. I took over a dozen little videos of waterfalls, and I know each time I view one, I will have the feeling of awe and reverence that I had today. That's another batch of memories for my positive mental state memory bank – and since I wrote about it – it is doing double duty as a happiness practice!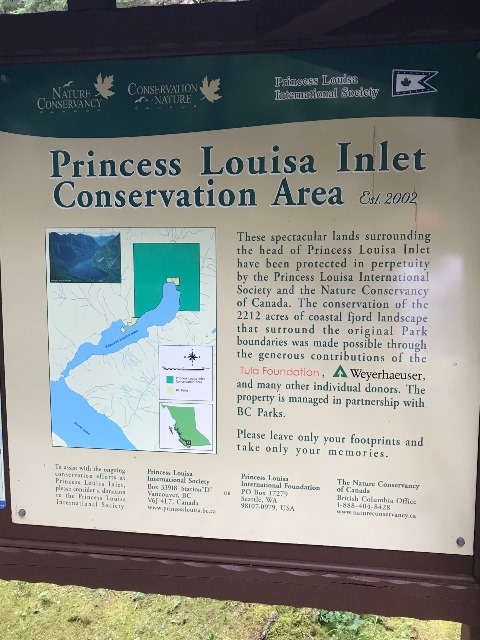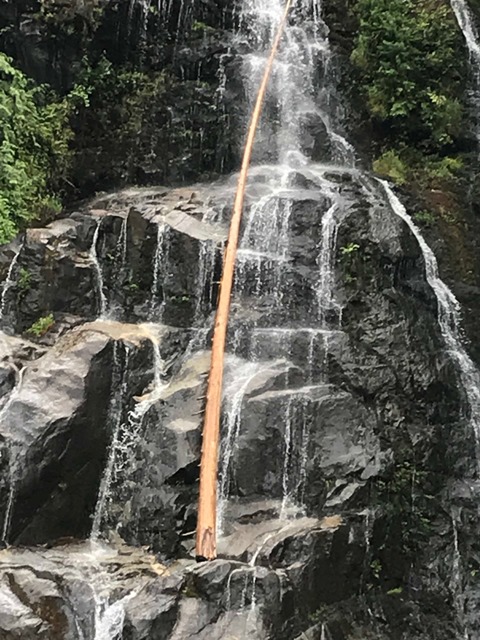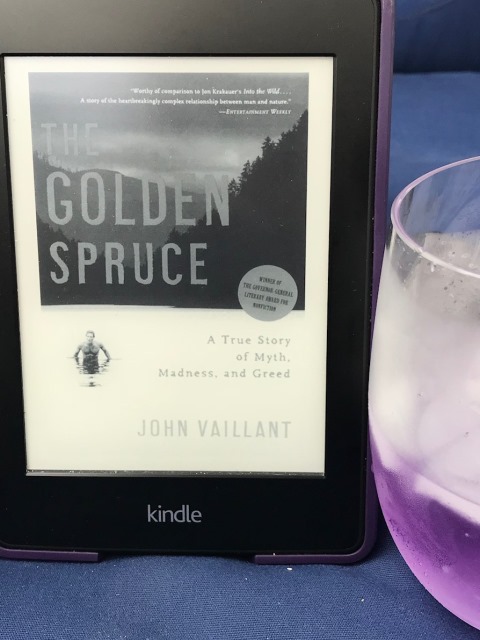 "Glaciation of millennia past carved the magnificent granite-walled gorge through the snow-tipped mountains that rise sharply from the water's edge to heights in excess of 2,100 metres (7,000 feet). As placid as a mountain lake, the ocean waters of Princess Louisa Inlet move constantly with the tides, but currents are practically nonexistent, except for the seven to ten-knot Malibu Rapids at the entrance. The inlet, almost completely enclosed, is 300 metres (1,000 feet) deep and never over 800 metres (1/2 mile) wide in its eight-kilometre (five-mile) length.
Until mid-June, the warm sun melting the mountain snow-pack creates more than sixty waterfalls that cascade and spume down precipitous walls to mingle with the waters of Princess Louisa Inlet. Beautiful Chatterbox Falls at the head of the inlet tumbles 40 metres (120 feet)"
(Excerpted from http://www.env.gov.bc.ca/bcparks/explore/parkpgs/princess_louisa/)
This morning we left Chatterbox Falls to time our arrival at the Malibu Rapids at high slack tide. We untied our line from the tree on the shore and pulled up our anchor around 6 a.m. The anchorage was shrouded in clouds and fog. What a perfect way to end a magical few days.
I think Mac is smiling down from heaven on all who are fortunate enough to experience his slice of heaven on earth.
Please share your thoughts. . .